"The Best Family Fair In Michigan"
"The Best Family Fair In Michigan"
MARKET LIVESTOCK REGISTRATION FORM
Market Livestock Exhibitors, there is a mandatory tagging and weigh in for market sheep, market goats and veal and pick up of tags for swine on Saturday, May 4th from 8 a.m. to 11:00 a.m. at Goodells County Park.  Click on the link for the form to bring with you.  Please fill out the form prior to that date so you're not holding up the line.
There is a Leaders/Parents Livestock Meeting on Wednesday, April 24th at 7:00 p.m. at Goodells County Park.  Livestock Leaders/Parents are strongly encouraged to attend this to discuss livestock exhibitor expectations and livestock rules.  Beverages and light snack served.
FAIR AGE - 2019
Change in Fair Age for 2019.  The fair age for 2019 will be 8-19 as of January 1, 2019. Clover Sprouts, ages 5-7 as of January 1, 2019, will be allowed to exhibit still exhibits and animal projects.  Clover Sprouts can exhibit animals 600 lbs. or less.  Clover Sprouts will exhibit in a non-competitive format, and there will be no sale of Clover Sprout livestock.  Clover Sprouts cannot exhibit swine (swine are a terminal project).  Clover Sprouts have the option of borrowing an exhibitor's animals for exhibition instead of bringing their own animals.
2019 Fair - July 15-20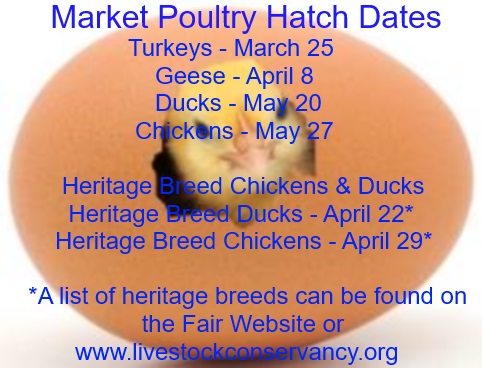 Heritage Breed Ducks & Chickens are defined by The Livestock Conservancy and a complete list of breeds can be found at this link.
Sorry, we couldn't find any posts. Please try a different search.