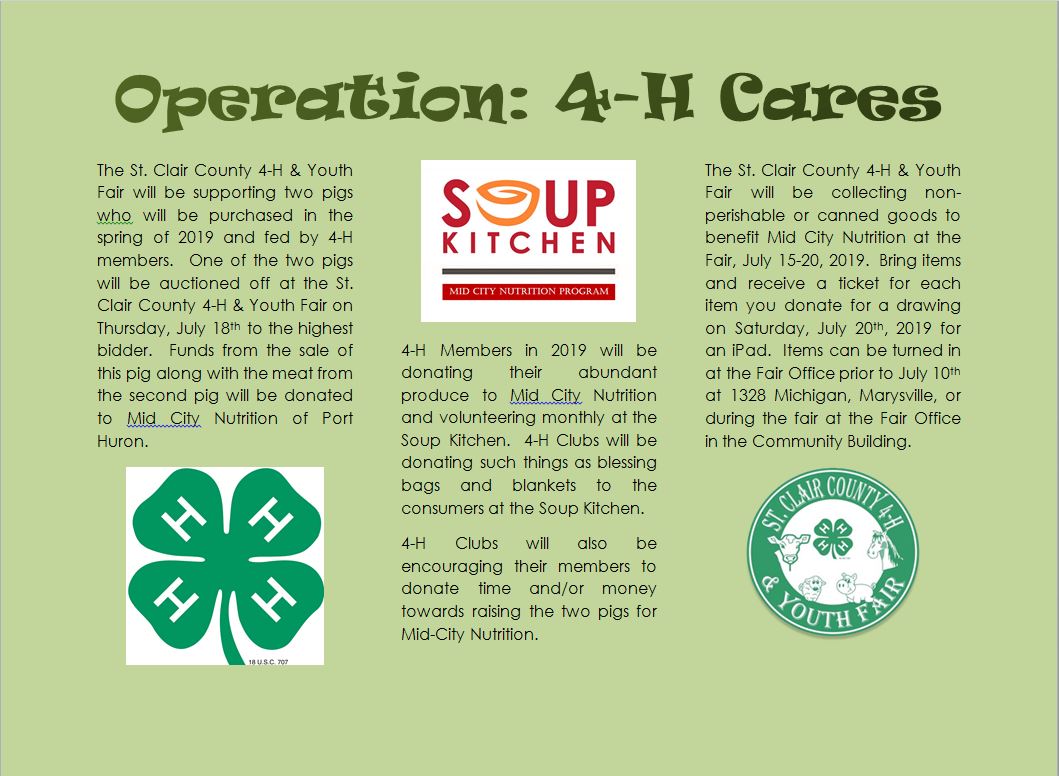 Operation: 4-H Cares for 2019 will benefit Mid City Nutrition's Soup Kitchen in Port Huron.
Mid City Nutrition was founded in 1987 by 10 area churches at St. Martin's Lutheran Church, as a successor to the Soup Kitchens at First Presbyterian Church and Bethlehem Temple.  Their mission is to serve the hungry of St. Clair County by providing hot healthy meals 7 days a week.  Mid City Nutrition offers many other services ranging from providing a listening ear to helping provide clothing essential for Michigan weather. Mid City Nutrition also partners with many other organizations to fight the battle against hunger. Last year they served over 70,000 meals with the help of over 300 volunteers.
Our mission for 2019 will be raising two pigs to benefit Mid City Nutrition's Soup Kitchen.  One of the hogs will be auctioned off during the Livestock Auction on Thursday, July 18th.  The proceeds from the auctioned hog will be donated to Mid City Nutrition.  The second pig will be processed and the meat donated to Mid City Nutrition for their consumers.  4-H Clubs will be encouraged to volunteer during the year serving meals at the Soup Kitchen.  4-H members can donate their excess produce, eggs, poultry to the Soup Kitchen throughout the year.  4-H will be taking up a collection at the livestock weigh ins in January and May to help support raising these two hogs.
The Fair will be collecting non-perishable and canned goods at the fair.  Donors will receive a ticket for each item donated for a raffle on Saturday, July 20th for an iPad.  Donations can be dropped off prior to fair at the Fair Office, 1328 Michigan in Marysville, or during the fair at the Fair Office in the Community Building.
4-H Clubs will also be donating items for blessing bags as well as making fleece blankets throughout the year for the benefit of the Mid City Nutrition's consumers.
St. Clair County 4-H will be starting a Community Service Team for 4-H members of all ages!  Their first meeting is Thursday, January 3rd.  Look for an announcement for location and time.  This is for ages 5-19.
2019 is so EXCITING — get involved!